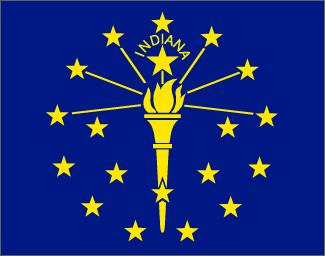 On June 1
st
and 2
nd
(2012) I celebrated my bachelor party in Indianapolis with my Dad, brother, and two of my closest friends from Chicago (Mike and John). It was a weekend that involved a few brewpubs, brewery visits, little sleep, and a lot of fun.
The chums from Chicago and I rendezvoused in Chicago before heading to Indy (my Dad + brother opted to fly to Indy and meet us there). We rode into town around 745p local time, and opted to go and find some food and beer after we checked into our hotel and dropped off our stuff.
For dinner, we chose to go to
Brugge Brasserie
. Mike and I had heard good things about it and we were interested in giving it a go.
When we walked in, I knew we were in for a treat – bright colors on the walls, brewing equipment converted into tables in one section of the first floor, table shuffleboard on the second floor, and you could converse with other people in your group without yelling. This was all good, but we were all looking forward to their beer.
After we were seated on the second floor, we reviewed the beer menu and were happy to find a homemade sour as an option (experimental beer # 7). Running with
Hoosier Beer Geek
's recommendation to try any sour that is available, 4 of 5 of our group gave it a go and it was fantastic. It was a beer that was made with raspberries and agave nectar. The beer's sour quality was evident but not overwhelming. It was refreshing, easy to drink, and one I hope to try again.
My brother opted for the
Triple de Ripple
and was won over immediately by it. I tried it and thought it fantastic – it was smooth, not too sweet, and it tasted lighter than its abv led me to believe. A great beer.
After the sour, I opted for a glass of the
Black
. A Belgian stout that had all the characteristics that I was hoping for – it had plenty of chocolate and caramel sweetness, and it was very easy to enjoy a few.
From there, we made our way to the
Broad Ripple Brewpub
(Indiana's oldest brewpub). My brother and I decided to start with their cask porter, and the Chicago chums thought a few of the available meads were worth trying (no offense to the mead fans out there but ordering mead in a brewpub makes as much sense as ordering pizza at a steakhouse). The porter was good and if I had more time I would have tried a few more glasses of it. My brother seemed to feel the same about it.
For the second round, my brother went with their ESB, and the Chicago chums went with a glass of port and a glass of the Common. I went with the brewpub's hefeweizen which was enjoyable, but I wish I would not have added a lemon wedge.
Afterwards, we made our way back to the car but not before stopping in a local liquor store where Mike found two bottles of
Gilgamesh
(I thought we would never be able to try it). He gave me one bottle, and he kept the second. I plan on enjoying mine in a few weeks. I am really looking forward to it.
The next day we stopped at
Flat 12
and
Sun King
. At
Flat 12
, we tried a few samples of their cream ale, porter, and their tangerine porter. Before going outside to their beer deck, a few of us acquired a pint of a beer called Mustache Ride which is a red ale aged in bourbon barrels with vanilla beans. It was a beer that went quite well with a few games of corn hole. We considered sticking around
Flat 12
for the 1p tour but we thought it would be better to keep our $10 and put it towards beer and food that would be acquired later in the day.
Next, we stopped at
Sun King
where we marveled at the open space where people could walk around, the brewery's hardware (i.e. medals), and the numerous taps that were the keepers of their year round offerings as well as their popcorn pilsner, sea cake and dragonfly wheat. Of all of the available offerings (that were granted gratis, but limited to 3 tickets for the year round and 3 caps for the specials), my favorite was the popcorn pilsner. It stood out because the popcorn (I presume) provided a straw like taste that took the place of the uniform crispness that I expect from pilsners.
After
Sun King
we made our way to
3 Floyds,
which I was really looking forward to. Up until our visit there for lunch, I had only been to
3 Floyds
for Dark Lord Day and their 15
th
Anniversary party.
I expected that we would have to wait to get a table due to prior conversations with locals who told Mike and I that there is not really a good time to visit that will not include a wait. Surprisingly, when we visited, we walked in, showed the doorman our ids, and had a table immediately thereafter. So, the lesson here is, try to arrive around 3p – 330p on a Saturday. Its post- lunch but before dinner.
While there, I had a chance to try Mutiny and the Mollusk, Thick White Freeks and Al Dabeyoun. Mutiny and the Mollusk was smooth and sweet but not oily as I thought it may be due to the inclusion of oysters. Thick White Freeks was surprisingly chewy but I thought the notes of pepper helped make it an enjoyable beer. Al Dabeyoun continues to be a beer that I really like. It combines the aromatics of a Belgian triple with the hop qualities of an ipa. I seriously considered getting a growler but I did not see any around the bar (I recalled seeing them hanging above the bar during my 1st dark lord day), and I had plenty of beer in the fridge that I wanted to share with my brother, Dad and fiancé after we returned to Chicago. So, I passed. Regardless, I do hope it is still available the next time I visit.

The trip was a lot of fun, and I am glad that everyone was able to make it (I will add a few pictures from this trip later tonight).

Some time in the future i hope a similar trip is possible, but to Madison, Wisconsin.